Eli Manning to blame for New York Giants failure in 2012 - ESPN New York
: "EAST RUTHERFORD, N.J. -- In his heart of hearts, Eli Manning knows this was a winning season in record only. He knows he had a chance to do something no New York Giants quarterback had ever done, a squandered chance that might haunt him for the balance of his career and beyond.
Out of the playoffs and out of luck, stripped of his shot at being the first Giant to lead his team to back-to-back championships, Manning knows why his 9-7 feels more like 7-9. He's playing against NFL history now, trying to join the ultra-exclusive club of Joe Montana, Terry Bradshaw, Troy Aikman, and Tom Brady as the only men to win at least three Super Bowl rings.
And if he never gets there, if he ends up stuck on two forever, 2012 will be one that keeps him awake at night. No, the career-high five touchdown passes he just threw in a 42-7 rout of the Philadelphia Eagles won't comfort him in the dead of night."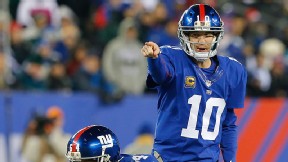 'via Blog this'