New York Jets -- Rex Ryan should have been fired, too - ESPN New York
: "Rex Ryan should have been fired, too, as he is no less responsible for the state of the New York Jets than is his former business partner, Mike Tannenbaum, the general manager thrown to the baying wolves by an owner who had no choice.
Woody Johnson needed a new overlord of personnel after his team fielded an offense so bereft of talent and imagination it appeared lifted from a grainy, eight-millimeter game film out of the black-and-white '30s. Too many mistakes in the draft room and the monumental one in the Tim Tebow trade left Tannenbaum on the wrong side of Johnson's desk Monday morning, when the guy doing all the roster trimming since 2006 was the one asked to turn in his playbook."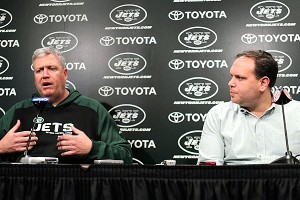 'via Blog this'