2013 NFL playoffs -- Denver Broncos, Baltimore Ravens brace for frigid playoff - ESPN
: "DENVER -- That glove Peyton Manning has been wearing on his throwing hand will come in quite handy Saturday for what could be the coldest home postseason game in Denver Broncos' history.
Those not playing may want to sit on the heated benches -- or next to the electric heaters -- because the game-time temperature when the Broncos host the Baltimore Ravens in the AFC divisional playoffs is expected to be 17 degrees, according to National Weather Service meteorologist Jim Kalina.
In other words, "bundle up," Kalina said."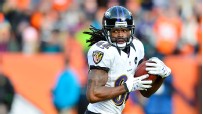 'via Blog this'