LeBron James of Miami Heat expected to start vs. Chicago Bulls - ESPN
: "MIAMI -- After participating in the Miami Heat's morning workout, LeBron James said he'll need more treatment on his bruised right knee before deciding whether to play in Friday's game against the Chicago Bulls.
James sat out of Thursday's practice and had extensive treatment for a bruised right knee. He aggravated the injury during Wednesday's overtime win against Dallas."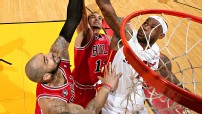 'via Blog this'