Mirko Jurkovic, former Notre Dame All-American, dies at 42 - ESPN Chicago
: "Jurkovic was a four-time letter winner who played defensive tackle for the '88 squad and moved to guard, where he started on teams that won the '89 Orange Bowl and '91 Sugar Bowl. He was named Notre Dame lineman of the year by the Moose Krause chapter of the National Football Foundation in 1991 and was selected by the Chicago Bears in the ninth round of the 1992 draft.
Originally from Calumet City, Ill., Jurkovic attended Thornton Fractional North High School. He graduated with a degree in marketing from the College of Business Administration at Notre Dame.
He is survived by his wife, Angie, and their three children, Mirko, Claire and Samantha. His brother John played in the NFL for 10 years and is a co-host of "The Carmen, Jurko & Harry Show" on ESPN 1000.
Funeral services will be held at St. Pius Catholic Church in Granger, Ind., at 11 a.m. Jan. 12. Visitation will be from 3-8 p.m. Jan 11 at McGann Hay Funeral Home on SR 23 in Granger."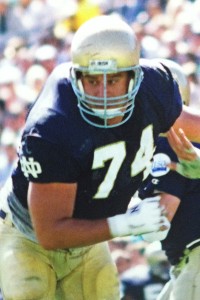 'via Blog this'