New York Knicks are legitimate championship contenders, after another win over San Antonio Spurs - ESPN New York
: "It was the right night to do it, too, the night the Knicks again beat a San Antonio Spurs team that knows nothing about biblical NBA droughts. Only the 39-year-old Kidd wasn't asked about the Spurs' four titles over the past 14 years, four more than the Knicks have won since 1973. He was asked about the ring his Dallas Mavericks won two years back, and whether his current team could replicate the feat.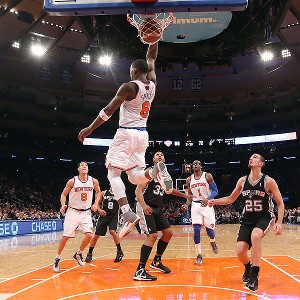 [
Deeper than the Dallas team of Kidd, Tyson Chandler and Dirk Nowitzki that beat the Miami Heat in six.
Kidd used his beautiful basketball mind to break down the matchups, starting with Nowitzki and Carmelo Anthony. "I mean, it's very similar," he said. "Melo and Dirk are your high-level players. You have J.R. [Smith] and Jason Terry. J.J. [Barea] is kind of like Pablo [Prigioni]. [Steve] Novak's like Peja [Stojakovic], a guy who can stretch the defense and knock down 3's. Tyson is Tyson.""
'via Blog this'