Ray Lewis has unquestioned Hall of Fame credentials, but his legacy is complicated - ESPN
: "The legacy of Ray Lewis, for me, is complicated. I can't assess the career and the man, the player and the leader, without including one messy part of his past.
Because we know what Lewis has done as a football player: He will go down as the greatest middle linebacker of all time, a vicious intimidator who, in his prime, covered the football field with incredible speed and hit with force. He was so dominant that opposing teams played away from him. He has defined the Baltimore Ravens franchise and personified the city in which he has played for 17 seasons.
Lewis' longevity is unheard of in this era of free agency. Few players spend an entire career in one city, much less for 17 seasons. Joe Montana, Brett Favre and Peyton Manning, all defined their franchises for more than a decade, and all three ended up chasing the ghost elsewhere."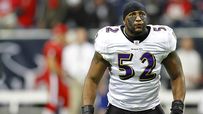 'via Blog this'