Smith's summer fueling his All-Star play - Knicks Blog - ESPN New York
: "Five straight games with 20 points or more for the first time in his career. Pick-and-roll efficiency during a recent stretch even better than NBA leader Chris Paul. Gravity-defying dunks. And two game-winning shots. Already.
J.R. Smith, who's averaging career-highs in points (16.6) and rebounds (5.2) for the 22-10 Knicks, is starting to generate some serious votes to be an All-Star -- and Sixth Man of the Year -- for the first time in his career.
"Absolutely," Mike Woodson said on Thursday night. "That was the whole idea of coming into this season is putting him in that position as a guy coming off the bench that could lead the league and score a lot of points off the bench. ... I think he's starting to step up. He's being more patient about his play and he's trying to do it on both ends of the floor. That's what's so nice about it." "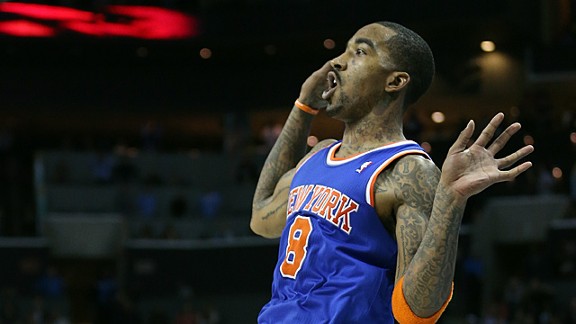 'via Blog this'