Amar'e Stoudemire, Carmelo Anthony of New York Knicks to play Tuesday - ESPN New York
: "Fellow forward Carmelo Anthony will play against Portland after missing the last two games with a hyperextended left knee.
Both Stoudemire and Anthony were considered questionable heading into Tuesday's game.
Stoudemire and Anthony went through a shootaround with the team around two hours before tipoff and it was determined Stoudemire's left knee was strong enough to allow him to suit up for the Knicks. Anthony's status was determined about 45 minutes before tipoff.
Stoudemire underwent a debridement on his left knee on Oct. 31.
New York got off to a 21-9 start with Stoudemire sidelined and some NBA observers and fans have wondered if the $100 million forward will impact the chemistry the Knicks have established."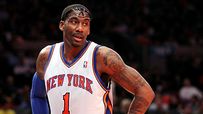 'via Blog this'