Discover BCS Championship Game -- Hard to find fault with Alabama Crimson Tide's historic victory - ESPN
: "MIAMI -- Nick Saban is a perfectionist. We all know this. He looks at the ceiling of the Sistine Chapel and questions Michelangelo's color choices. He wonders if E really does equal mc².
But Saban is going to need an electron microscope to find much wrong with Alabama's 42-14 humiliation of Notre Dame in Monday's Discover BCS National Championship. It was so complete, so, well, perfect, that Bama should get a crystal trophy and a half for this one.
"I think it's pretty special what we accomplished," Saban said.
Wait? What? Did Saban really mean that? After all, this is a guy who can find fault with the shape of a snowflake."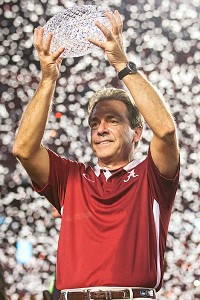 'via Blog this'