Paul Pierce enjoys sticking it to New York Knicks - ESPN Boston
: "NEW YORK -- When his step-back jumper over Tyson Chandler in the final minute of Monday's visit to New York effectively sealed a victory, Boston Celtics captain Paul Pierce -- as he is wont to do on the Madison Square Garden floor -- smiled and blew a kiss to an audience that couldn't jeer him loud enough.
Just another night on Broadway for Pierce, who in seasons past has soared like an airplane (while Nate Robinson crashed behind him) and taken a midcourt bow after other big shots on the MSG floor.
Pierce smiled again inside the Celtics' locker room on the heels of the 102-96 triumph when asked to explain his impulsive reactions."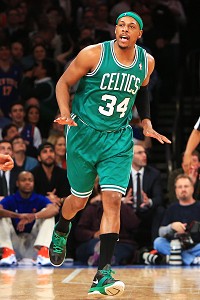 'via Blog this'