Uni Watch: Rex Ryan's tattoo imitates artist Rob Ullman's style - ESPN
: "But here's the thing: Ryan's tat looks a lot like the work of Rob Ullman, an illustrator and cartoonist who just happens to specialize in pinup-style illustrations of sexy babes wearing sports jerseys. In fact, Ullman takes commissions from guys who hire him to create jersey-clad portraits of their wives and girlfriends, and from women who hire him to create portraits of themselves for their husbands and boyfriends.
All of which leads us to the inevitable question: Did Rex Ryan hire Rob Ullman to create the image for his tattoo? Or did someone poach one of Ullman's images?
"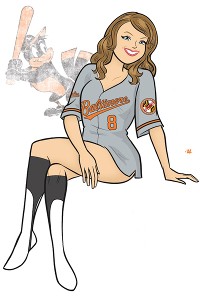 'via Blog this'